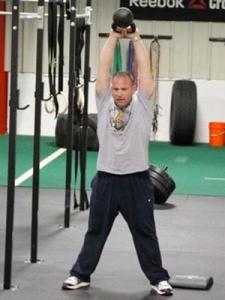 Jon Goldberg
I have always tried to be active.  I have belonged to numerous gyms, had workout equipment in my basement and tried a running program. Nothing really motivated me because I never really pushed myself to get results. My wife suggested I try CrossFit to help give me the push I needed.
After some procrastinating, I walked into Pennington CrossFit  for a teaser class in November of 2012. I knew a little bit of what to expect but was still a little unsure. I felt welcome from the time I walked in until the time a left. To say the workout was challenging was an understatement. The great thing was that you could scale the workout to your ability and always have the goal in mind of doing the prescribed workout. I was sore after the workout but I knew that it was one great session. I signed up for Fundamentals and was on my way.
Lee and Donna began talking about a diet that was an option but was widely used in the CrossFit Community. It was called Paleo. I was interested because I have been overweight most of my adult life. I tried supplements, Atkins (twice) and Nutrisytem (3 times) and always gained the weight back. I borrowed a book and was on my Paleo journey. With some modifications to my diet and suggestions from PCF, I have seen my body change dramatically over 10 weeks and feel great! It is easy to stick to and I realize how much better I feel when I eat right.
I now feel that I have a great workout routine that is always challenging and ever changing. Combined with a healthier lifestyle, I know I will reach my personal fitness goals. I highly recommend Pennington CrossFit to anyone who likes to be challenged or needs that little extra push. You will be glad you did. I know I am