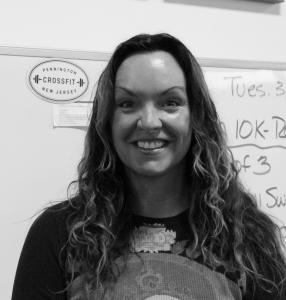 Amy Temple-Smith
Coach, CrossFit Level 2 Trainer
The minute Amy finished her first Cross Fit workout, she was hooked! Amy has been Cross Fitting for almost 6 years now and in 2011 became a Level One Cross Fit instructor.  She has a background in swimming, gymnastics and softball.
Always loving to workout, Amy became disheartened when she injured her back in 2007 and was no longer able to exercise. After chiropractic care, acupuncture and even 4 back procedures, it was not until she was introduced to Cross Fit that she built up her core strength and her back ailments subsided.
Amy loved the CrossFit community immediately and how everyone works together to help one another achieve their own individual goals. Once having an injury of her own, Amy's number one priority is the safety of the athlete. Knowing the lifts and having the correct form is essential in her coaching style."Being a busy mother of 3, I understand how important time is to all my athletes. So my goal is to give you a safe, effective, yet amazing workout that doesn't (nor should it) take hours in the gym!"  -  3,2,1…GO!!
CrossFit Level 2 Trainer
CrossFit Level 1 Trainer
CrossFit Endurance Trainer
CrossFit Kettle bell Trainer